Podcast: Play in new window | Download
Enjoy this week's episode with special guest, CEO, Author and Negotiation Expert, Chris Voss, as we talk about negotiating real estate deals using the same methods the FBI uses negotiating with international kidnappers and terrorists.

In this week's Investor Success Podcast we discuss negotiating in detail:
 The importance of using 3-4 open ended questions you can ask sellers, below are some examples:
"How am I suppose to do that?"
"What is causing you to sell your house?"
"Why would you want to sell your house now?"
What Mirroring is and why it works so well to capture additional information from your seller
The importance of projecting cool, calm demeanor using the late night FM DJ voice
How to bend reality with the fear of loss
Stealth negotiating tips with key questions such as:
"How much does it cost each day to own this property"
"What is going to happen if you don't sell this house?"
The importance of getting a seller to be the first to name the price, what to do when they refuse and how to use Anchors and Ranges when negotiating with key questions like:
"You seem to have a range in mind…"
The importance of pausing
Resources: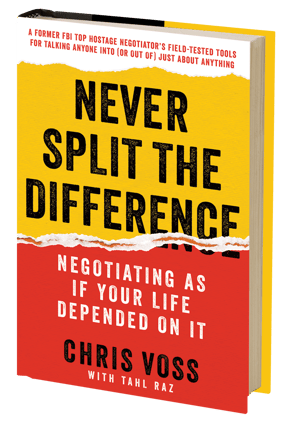 About our guest:
Chris Voss is CEO of the Black Swan Group and author of national best-seller Never Split The Difference: Negotiating As If Your Life Depended On It. A 24 year veteran of the FBI, Chris retired as their lead international kidnapping negotiator.  His company specializes in solving business communication problems with hostage negotiation solutions. In addition to the FBI, Chris's expertise draws from Harvard's Program on Negotiation, Scotland Yard, and The Kellogg School of Business.
His negotiation methodology centers around "Black Swans" small pieces of information that have a huge effect on an outcome.  Not only does Chris believe the negotiation process needs to be tailored to draw out these complexities, but also he and his team negotiate in a way that has a huge impact on influencing an outcome. Chris and his team have helped companies secure and close better deals, save money, and solve internal communication problems.
Like our show?
Leave us a review in I-Tunes, YouTube or Stitcher Radio
Ready to take your investing to the next level?
Join your podcast host, Jim Ingersoll, for 3 days of investor training and networking at Investor Training Summit – Sept 16 – 18, 2016 in Tampa
Save
Save
Save
Save
Save
Save
Save
Save
Save
Save